Abrasion - resistant Slurry Pump

Introduction:
Slurry pump SH series it is heavy and powerful centrifugal installation, capable of pumping viscous and abrasive media.
Horizontal Slurry pump with a suction pipe. Pump parts are subject to a minimum abrasion during use, resistant to shocks and high pressure water. Do not create a big noise at work, do not vibrate. Protected against leakage of liquid.

SH / 75C pump is a horizontal, centrifugal slurry pump with metal shell (snail).
The discharge connection may be arranged at intervals of 45 degrees on demand and in any direction of the 8 position for easier installation and use.
A brief introduction of the slurry pumps we offer:
Slurry Pump Series:
1. Metal Lined Slurry Pump, SH Type; 2. Rubber Lined Slurry Pump (SHR Type); 3. Hi-Pressure Slurry Pump (SBH Type);
Gravel Pump Series:
1. Hard Metal Sand Pump (SG, SHG Type); 2. WN Dredging Pump (WN Type);
Sump Pump Series:
1. Metal Vertical Slurry Pump (SV Type); 2. Rubber Vertical Slurry Pump (SVR Type);
Local Pump Series:
1. Power Plant Slurry Pump (ZBG Type); 2. Coal Washing Slurry Pump (ZJ Type);
Froth Pump Series
Slurry Pump Parts:
1. Metal Pump Parts; 2. Rubber Pump Parts; 3. OEM Pump Parts

Scope:
tailings
heavy mine
ash
cyclone Power
Paper industry
The abrasive slurry
Obage fabric
mineral Processing
Waste removal
Specifications:
| | |
| --- | --- |
| Model | SH-75C |
| Outlet | 3-inch |
| Capacity | 86.4-198m3/h |
| TDH | 9-52m |
| Rated Motor Power | 30Kw |
| Speed | 1000-2200r/min |
| NPSH | 4-6m |
Construction of Heavy Duty Slurry Pump: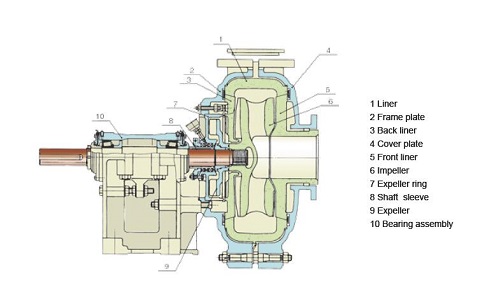 Standard Material of Wet-end Parts: Hi-Chrome Alloy A05

Typical Applications:
Tailings
Heavy Mining
Ash Handling
Cyclone Feeds
Pulp and Paper
Abrasive Slurries
Coal Preparation
Mineral Processing
Aggregate Processing
Heavy Refusal Removal
Performance Curve: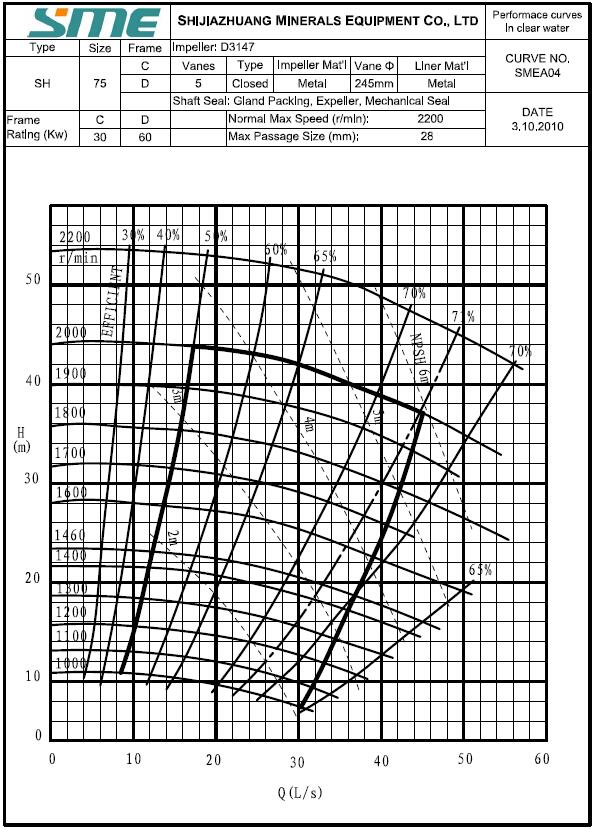 Projects with Heavy Slurry Pumps: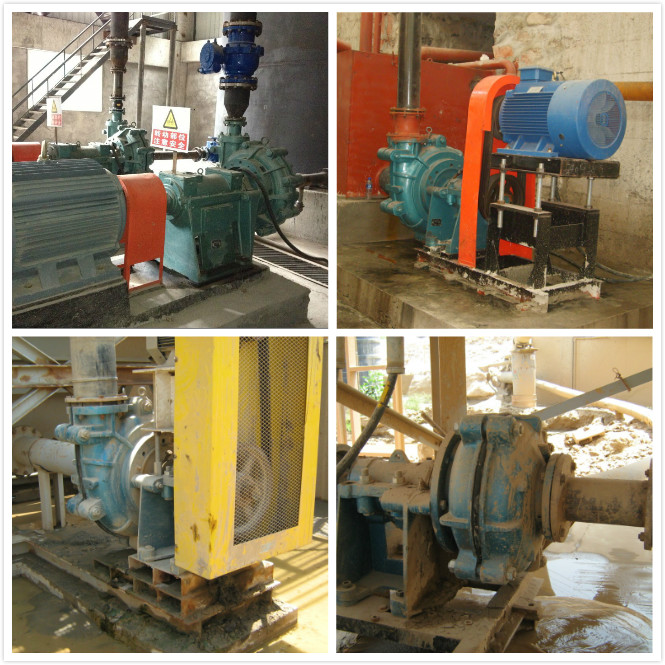 Produktkategorier : Slurry Pump > Metall fodrad flytgödsel pumpen